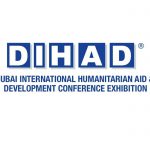 The Dubai International Humanitarian Aid and Development Conference and Exhibition-DIHAD followed 3 days of exceptionally enhancing and profitable conversations on the most critical issues confronting the mainland of Africa, particularly considering the COVID-19 pandemic.
The top helpful get-together in Dubai under the subject 'Aid and Coronavirus, a Focus on Africa', approached to address different central questions and look for creative approaches to address and resolve them.
Xavier Chatel, Ambassador of the French Republic to the UAE, visited DIHAD 2021. Chatel visited the French structure at the display running corresponding to the meeting, and was acquainted with the developments in the alleviation field offered by the partaking French organizations under Ambrelia, Bolloré Logistics, Famoco, Fonto de Vivo, IMeBio, Nutriset and Tysilio.
He was joined by Ambassador Gerhard Putman-Cramer, Director of the International Scientific Advisory Board, (DIHAD) – DISAB, and the Permanent Observer of the Parliamentary Assembly of the Mediterranean to the United Nations and other International Organizations in Geneva, and Eng. Anas Al Madani, Vice Chairman and Group CEO of INDEX Holding.
The Mohammed Bin Rashid Al Maktoum Humanitarian and Charity Establishment offered monetary help to the understudies of Zayed University as a feature of its instructive program.
General Manager of Mohammed Bin Rashid Al Maktoum Humanitarian and Charity Establishment, Saleh AlMazroai, on the last day, conveyed a check of the monetary commitment, which added up to 1,000,000 dirhams, to Dr. Khalid Mohamed Alkhazraji, Vice President of Zayed University. Different meetings occurred throughout 3 days.